How It Works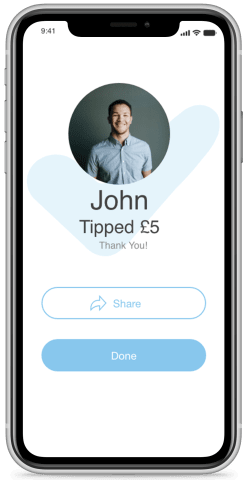 You can earn tips regardless of your profession and location, as long as you have a UK bank account where we can transfer the funds. You will be able to see your earned tips in your personal Gratuu wallet instantly- we give you full control and transparency!
Our Geo-location feature allows flexibility for staff working in single or multiple locations. You can even earn tips on the go. We've got you covered if you are a full- time barista working in the same coffee shop; or you work in multiple bars as agency staff, you're a mobile hairdresser or a traveling street musician.
Hey, if you are self-employed, we can even take this a step further; use Gratuu to take a full payment for the service you have provided. How convenient is that? No more letting down the window cleaner just because you don't have any cash.
Download Gratuu now and start earning more.
Tip Pooling
Gratuu is HMRC registered TRONC master that can help businesses with the tip pooling administrative overhead. If your business already has an appointed 3rd party tronc master, Gratuu will simply transfer the funds to the business's bank account. Your business will be responsible for distributing these tips and your tronc master will be responsible for running a PAYE on tips.
We can help your staff to earn more tips regardless of your current tip pooling practices. It doesn't interrupt the current operations flow; you don't need to integrate the systems or print assets such as QR codes on the bill. Just download the app, create your venues profile and get in touch so we can send you some promo materials free of charge. Customers will connect to your brand's tip pool via our app when they visit your venue and see your profile.
If you want Gratuu to become your tronc master then get in touch and we will take responsibility for running a PAYE on your team's Gratuu tip earnings. We have experience running tip pools in different size venues, starting from small restaurants to large festivals of 400+ bar staff.
Get in touch if you want Gratuu to be your tronc master.